---
Our Mission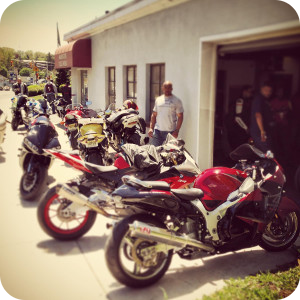 At WCW, our goal is to build a lifelong personal relationship with every customer by providing him/her with the best in gear, parts and service. We are committed to giving both you and your motorcycle a unique experience! Our PRIDE shines through in our work. You'll be reassured by the rigorous process of checks and balances our team uses while working on your bike. Ask questions while we're working, we want our customers to feel at home! We want every type of rider – Road Racer, Track Day Rider, Street Rider – to grow through his/her experience with us and enjoy our PASSION, the world of motorcycles. We have what it takes to cure you of any less than satisfactory shop experiences you may have had in the past. We want to keep you –and your fellow riders- coming back again and again for the ultimate in service and product satisfaction.
---
History
For over 19 years now, the WCW family has been growing within this industry. Founder Ron created this little slice of motorcycle heaven for us all to enjoy with the dream and ambition of doing things differently: focusing on the customer. With his father Papa John, the "Wizard" of suspension setups, these two took WCW to the next level: Road Racing started in 1996. We entered this arena with Laurence Borst and Chris Beck as WCW's first Road Racers, and started figuring things out. By the middle of the 97' season, we understood that proper suspension setting was key to a successful race weekend. The knowledge and developing expertise in properly setting suspensions helped move us from the middle of the pack to a PODIUM finish! The years went by, new race bikes came and went, and we continued to hone our success- racing and winning! Throughout the ensuing years, we have had a variety of expert and amateur racers that we have helped to succeed. The most recent of these National Championships was in 2012 with racer Patsy Cianicullo. Our PASSION and PRIDE, coupled with our EXPERTISE, continue to take our racers to the PODIUM.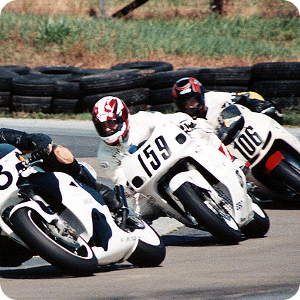 It wasn't until the summer of 2001 that we realized proper suspensions setups are not just for racing– they help every rider. Factory bikes are built to a routine spec; but that spec may not be the perfect fit for its rider. If you are not in the weight or spec range for that factory-built bike you fell in love with… the individualized custom suspension setup WCW provides is the answer. Over the many years we've been adjusting suspensions, we have logged a massive amount of our own data on what creates success. This WCW database enables us to tailor each rider's bike to his/her needs- from the Weekend Warrior to the Track Day Rider, all the way to the passionate Road Racer.
---
The WCW Team
Check out the WCW crew in action and stop in today for all your motorcycling needs. Our shop is a slice of motorcycle heaven and the doors are always open!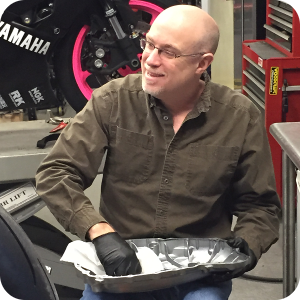 Ron Chemerynski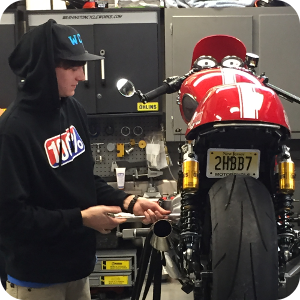 Sean Hoffmann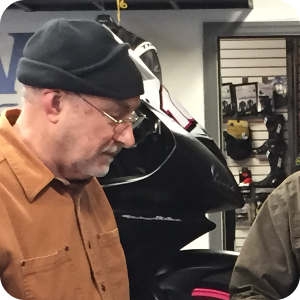 Papa John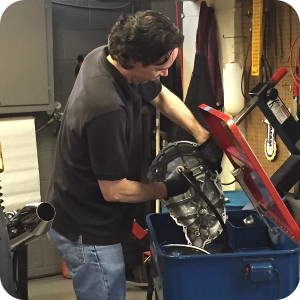 E.J. Reyes
---